Foam Diver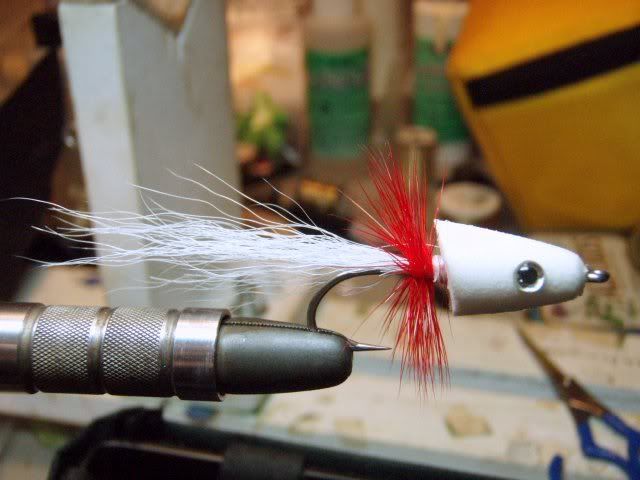 I like divers. I think that for a lot of our fishing season the water is low and clear and a popper can be over-the-top. I also like baitfish patterns that float low in the water. The preferred way to get this effect is with deer hair. But, I wanted a pattern that I could knock out a bunch of flies just before heading to the river because that's when I usually remember that I lost most of my flies on the last trip. I found this idea for turning around a pencil popper in some magazine article and combined it with the idea of simple tail material and a collar. And, btw that's pretty much the recipe:
- 4X streamer hook (the one above is size 2)
- sparse tail material of your choice
- collar of saddle hackle in color of your choice
- pencil popper body cut to size and reversed (I glue up a bunch of bodies first, then add tails and collars)
- eyes of your choice if you want eyes at all
- If you want to imitate different bait fish you can color the body with permanent markers. I've found that white or black works just fine on river bass.
I've had my best days when I fish this fly like fleeing baitfish. I cast it down and across and strip it back fast, sometimes lifting the rod tip a little and making it skip on top. This works great when you see bass busting a school of baitfish.