Gartside Gurgler

: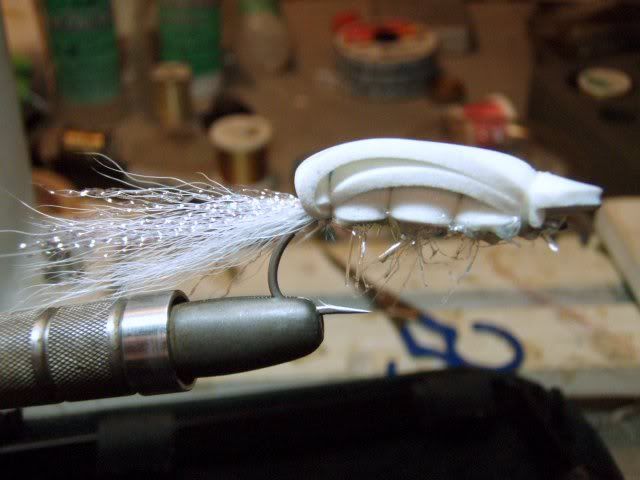 Developed by Jack Gartside the Gurgler in white is one of my go-to topwater flies. Tied similar to one of our favorite's, Kent's Stealth Bomber, the Gurgler has a great bubble trail and because of the lip gives off a gurgling sound when stripped. I think the gurgling sound helps in stained water conditions.
Here are the recipe for the orginal and tying instructions. Gartside's web site has a number of variations that he has developed for SW. Some may have application for Bass (eg, the BB Herring). I've always stuck basically with the original.
http://www.jackgartside.com/step_gurgler.htm
For river bassing I tie mine with a double layer as in the pics above. I think the extra layer keeps the fly floating in very fast water. In the fly in the picture I palmered it with some really fuzzy thread stuff that I picked up at Michaels. The recipe calls for palmered hackle. A red collar using just under the head behind the hook eye is a nice addition. I coat my foam with 2-part epoxy or water-based polyurethane (helps with the just-in-time tying system).
I don't have much in the way of special fishing instructions. I cast down and across right in the shoaliest water and keep fooling with the retrieve until the fish tell me they like it. If I think the fish are holding tight against the rocks and/or in cutt-outs, I'll drop the fly right on the upstream edge (lots of times right on the rock), let it float down the side of the rock hoping it will be caught in the downstream eddy, if it does get caught in the eddy I'll give it a couple of short fast strips to bump it into the front of the rock, and hope for the best.