Just finished a couple rod shortening rebuild projects you might find interesting:
Project 1:
Original rod: 60s era, Shakespeare Wonderod, 8', Standard Taper, 7 wt. Cost me $10-15. Now 7'5", and a powerful 7/8wt. Scope included:
-Shortened equal amounts from the tip and a section from just above the grip and then reattached with a stent epoxied in between grip and new butt end.
-Yellow wraps with green tipping.
-Replaced original narrow metal reel seat with a better holding seat I had laying around as scrap.
Project 2:
Original rod: 60-70's era, Winfield by Berkey. another 8' 7wt and $10-15. Similar work scope as the Wonderod except wrap colors and I kept the original reel seat.
Photos below. Your pal, Jim
Wonderod: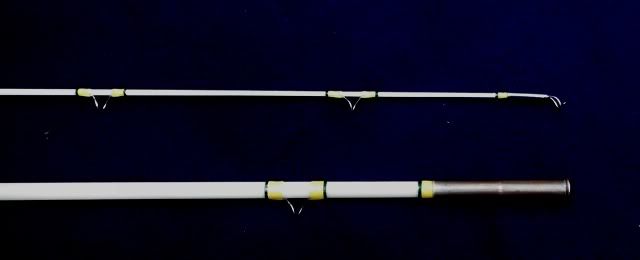 Berkley: