Much has been said over the last couple of years about the quality of PB&J sandwiches that I have shared at times with others on the river. In fact Creekstalker has gone so far as to suggest while planning a float for us that I bring some on the trip. Shoalieman and Basserdrew have enjoyed the bounty of the Blackwater kitchen. For those of you who remember the college football pickem' contest we had on here last year, we had a participant named Catfisher. Catfisher is my wonderful wife of almost 39 years. She orders wheat from high in the Rocky Mountains that is advertised to be organic and directly descended from the same wheat that Ruth garnered from the field of Boaz. Catfisher grinds her wheat to flour in our kitchen just as she prepares to bake bread which about every 3-4 days. With that freshly ground flour she makes the dough, let's it rise and then prepares the loaves for the baking stones that help to perfect the bread for GRF consumption. While enjoying the company of SSF yesterday I decided to photograph what might be the blue ribbon winner of all PB&Js. Here is the ingredients, Catfisher's fresh baked bread from home ground whole wheat flour being the foundation for the excellence of it all. These jars of jelly came from the Strawberry Farm just off I 75 at the Omega exit. The rustic little store is at the edge of the strawberry field where in May you can get the finest strawberries known to man. The lady that sold me the jelly, made the jelly and put it up in these jars you see. We had one of blackberry and one of strawberry. While the label deteriorated in the ice in the cooler, I think the peanut butter is Jif creamy.
First the slicing of the bread, photo by SSF.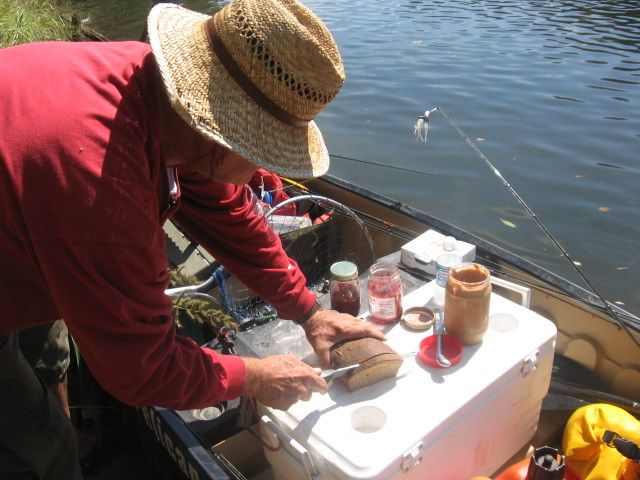 Next SSF spread the PB.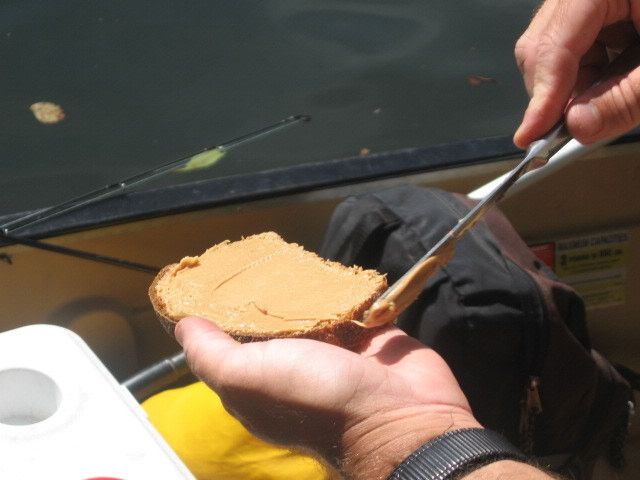 And then the jelly, SSF chose the strawberry.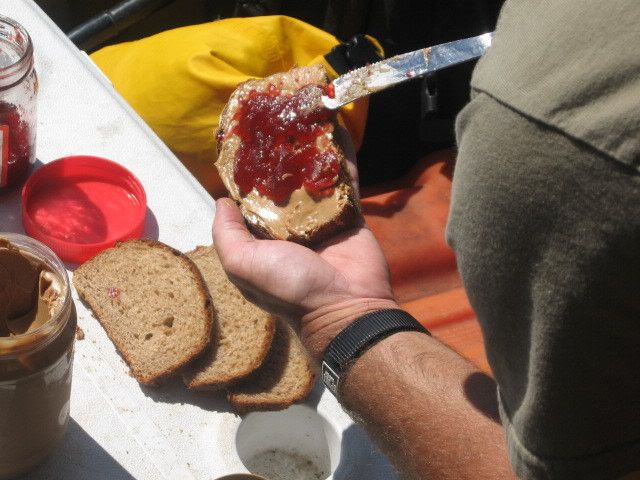 Then at lest the finished product. After consumption, SSF said what many have said before him, "Best I ever had, I think the bread makes the difference."