Bamaspot saw this picture of my oyster dressing in a Dutch oven and requested the recipe. (For Dutch oven techniques, click
Here
.)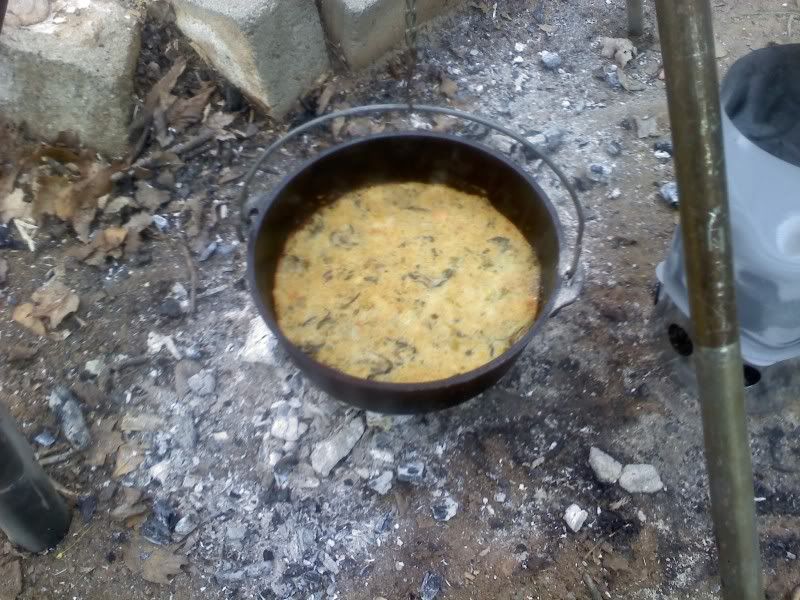 Special Cornbread for Oyster Dressing

(darn good cornbread for eating, too)
• 2 pounds White Lily or Martha White Self Rising Cornmeal
• 6 heaping tablespoons sugar
• 2 eggs
• 4 heaping tablespoons Hellmans mayonnaise
In a large bowl, mix corn meal, sugar, eggs, and mayo. Stir in 2 ½ cups water. Stir thoroughly. Pour into iron skillets greased with Pam no-stick cooking spray. (Make sure skillets are not more than 2/3 full. (I have a large and a small skillet that fit the bill perfectly.) Bake at 425 degrees uncovered for about half an hour until top is golden and browning is evident at edges.
While cornbread is baking, start chopping and cooking
celery onion saute'.



Celery Onion Saute'


• 2 fairly large or 3 mediocre sized sweet yellow onions (Vidalia or Peruvian are excellent.)
• 2 stalks of celery with plenty of leaves (leaves have the most flavor)
• ½ stick butter
Chop onions and celery and saute' in saucepan on low heat with butter and one cup of water. Add more water if needed until veggies are cooked. While celery onion saute' is cooking, start preparing
giblets.



Giblets


• 1 turkey's worth of giblets or equivalent chicken gizzards, maybe hearts and livers
Boil giblets until cooked. Skim off dross and drain. Chop, removing gizzard gristle. What gristle you don't eat, give to neighbor's dog.
The Oyster Dressing
• cornbread from above
• celery onion saute' from above
• giblets from above
• 2 heaping teaspoons black pepper, fresh ground if possible
• 2 heaping teaspoons sage
• 4 cans of Campbell's cream of chicken soup
• 5 cans of oysters
• 1 32 oz box Swanson chicken broth
Crumble
cornbread
into a huge pot. Mix in pepper, sage, and
chopped giblets
. Thoroughly stir in cream of chicken, chicken broth, and juice from oyster cans. (broth and oyster juice can help wash cream of chicken residue out of cans into mixture) Mix in
celery onion saute'
. Fold in oysters thoroughly but gently so as not to break them up. Spray casserole dishes with Pam no-stick cooking spray and pour in mixture. Bake at 325 degrees uncovered for more than an hour until firm.