So, like many of you I awoke to a beautiful Saturday afternoon in lieu of the rainy one forecasted. I had done the death trip to the annual Shoal Bass meeting the day before, where I work in the morning, leave early afternoon to get over there for dinner (time change!), have the meeting (was great), then drive back, getting home around midnight, to bed around 2am. So yes, I slept until noon. Don't judge me! lol
Anyway, since I had a window, I decided to do some the usual Saturday chores, then grab some basic gear and head to some Shoal Bass water. Not sure how it would go, but I knew I would only have about 3 hours to fish by the time I got over there, so it was a low risk-high reward situation.
Found to my surprise that the water was pretty clear, very fishable, if a tad high. Thanks to the near 80-degree weather, I could wet-wade, so the high water was less of an issue. I hate wading in high water with waders one, that is a good way to die. Caught two smaller fish right off the bat, then fished about an hour before catching a nicer one. Then this fish crushed my lure like it was the last bit of food she ever thought she'd see. After a short but exciting fight involving rocks, flow, and some wackiness, I brought it to hand: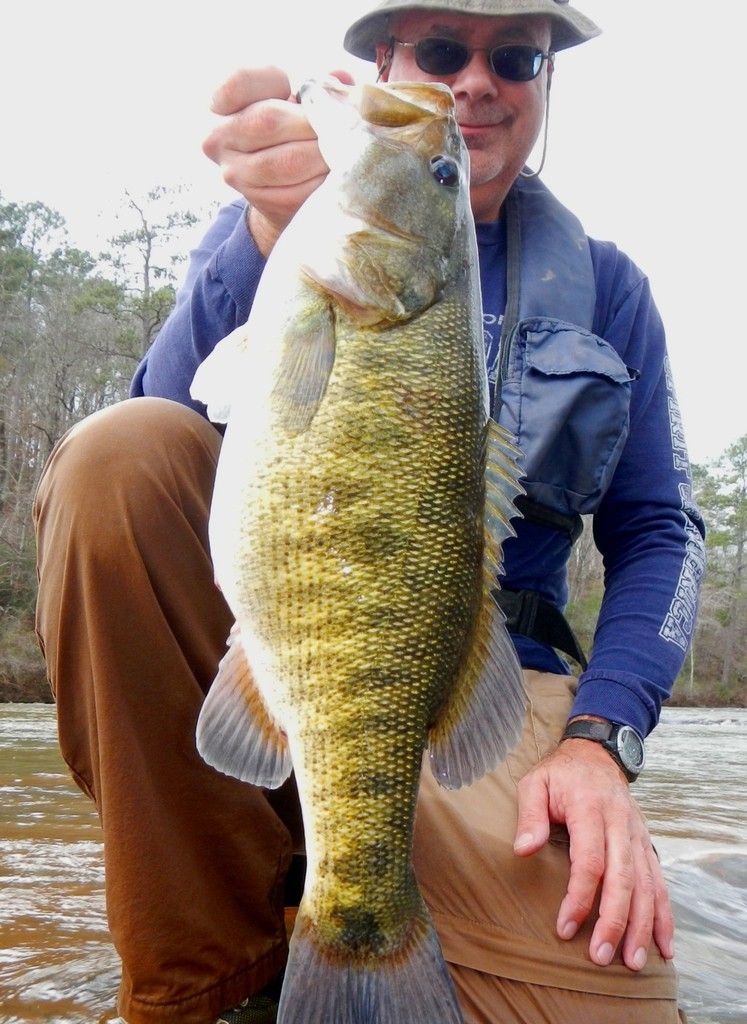 Fish is not as big as it looked, "only" 21", and I guessed about 5.5 lbs based on length, girth, and general fatness. I still have not replaced my scale. But still, a really nice fish! I had a heck of a time getting a decent picture. The clouds were playing havoc with the lighting so I had to use my flash and hold the fish close to camera. Thus, it looks like a whale.
Managed another 2 after this one, smaller but still nice. This was the last one:
It was about 20 inches.
A great day, especially when I had no plans to fish at all. Lesson for all of us, including myself: take even the smallest opportunity to fish. Great fishing doesn't always result from long days on the water and carefully-planned and executed trips. Sometimes, it can happen by just getting out....